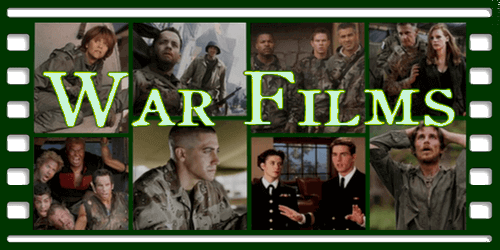 This forum is a place for collectors and aficionados of war films to exchange comments and reviews of war movies and films of war-related genres. It will also serve as a place to share with other internet users sources of "hard to find" titles. It can also be a place where collectors can trade or sell their spare copies to others. However the forum and its staff accept no liability for any trades of tapes or DVDs, all deals are made by interested parties at their own risk. Also, links on this forum to internet retailers and sellers are not endorsements or guarantees. Any purchases should be made taking into account normal internet safety measures.
Regarding Rules for posting, be polite, let's have no swearing or personal attacks. Have fun, post as many topics for discussion as you like, and let's all share our knowledge with others.
Please join the board and start posting movies, reviews, questions and topics for discussion.
Post new topic
Battle of Blood Island
Pastor Rick

0

28

By Pastor Rick on 7/11/2019, 3:45 am
12 O'clock High - Season 1 - Episode 1
Pastor Rick

0

37

By Pastor Rick on 5/2/2017, 2:11 am
Tunnel Rats
Pastor Rick

0

27

By Pastor Rick on 10/11/2016, 1:25 am
Probability Zero
warfilmman

0

336

By warfilmman on 2/20/2005, 11:15 pm
The Quick and the Dead
warfilmman

0

142

By warfilmman on 2/18/2005, 2:46 pm
Anzio
warfilmman

0

197

By warfilmman on 2/17/2005, 3:17 pm
The WAR LOVER ! B-17's & The Mighty Eighth !
TCUNC76

0

223

By TCUNC76 on 2/15/2005, 5:12 am
Back Door to Hell
warfilmman

0

176

By warfilmman on 2/12/2005, 11:02 pm
633 Squadron
warfilmman

1

261

By TCUNC76 on 2/12/2005, 11:22 am
Circle of Deception
warfilmman

0

174

By warfilmman on 2/12/2005, 3:11 am
Attack Force Normandy
warfilmman

0

1016

By warfilmman on 2/12/2005, 3:08 am
Joey Boy
warfilmman

0

188

By warfilmman on 2/12/2005, 3:04 am
Commando Squad
warfilmman

0

243

By warfilmman on 2/12/2005, 3:03 am
War Hunt
warfilmman

0

213

By warfilmman on 2/12/2005, 2:55 am
Seven Against The Sun
warfilmman

0

312

By warfilmman on 2/12/2005, 2:45 am
Gates of Fire
warfilmman

0

200

By warfilmman on 2/12/2005, 2:43 am
Post new topic